Clinical Interim Study Monitoring Solution with Real-Time Integration of EDC Patient Data and Biomarker data from Bio-Samples on Xbiom™ Insights
 Biotechs developing biologic therapeutics based on genomic or immuno-biomarkers benefit from closely monitoring ongoing trials, identifying key biomarkers which explain the events, or  identifying high positive or negative responders early- as soon as their specialty assays on their bio-samples are available. This is the essence of bench-to-bedside translational medicine.
Accomplishing this requires frequent reading of the EDC (Electronic Data Capture system used by the Site) and curating, imputing, and transforming the data into an analysis ready data model. Simultaneously all the available, arriving biomarker assay data for the trial patients must be curated, organized, and longitudinally integrated with the end-points in the EDC data.
This process is much more complex than the traditional Clinical Operations workflow conducted by biometrics teams, which can take weeks to months to convert EDC data models to SDTM from which ADaM ADSL, BDS and OCCDS files driven by the planned SAP analysis plan.
Instead, our approach is to:
Electronically read, curate, and convert read-only EDC data into a Universal Data Model (UDM) that is inherently longitudinal patient aligned, secured on an encrypted and Sponsor-specific Xbiom™ Translational Insights business base
Electronically read, curate, and convert Bio-Analytics and Biomarker data, as received, into the same Universal Data Model that is inherently longitudinal patient aligned.
Make this analysis ready data available in within 24 hours after frequent reading of the data updates.
Apply analytics models, scripts, search engines and APIs directly on the UDM to search, find and select cohorts that meet highly stratified criteria and enable the Translational Medicine team to analyze them against other cohorts on a single-window interface
Capture insights with downloadable and shareable TFL objects that can be saved as templates to auto-update with accretive data loads, and which hold the data and criteria for finding the data through listings, tabulations, and figures that contain the insights along with annotations for an evolving view into the changes to the patients being monitored which is reproducible and updated with the new data updates.
Search, find, collaborate and publish the TFLs into reports and posters.
Identify patients whose bio-samples need to be assayed or patients whose bio-samples need to be taken for specialty assays for filling out analysis data sets or for another assay panel.
BioTechs can accelerate their scientific research and development through their clinical trials using our Xbiom™ insights technologies under a monthly subscription, and our companion Data Concierge service, also available as a fixed monthly subscription to access our highly qualified virtual team of physicians, bioinformatics, biometrics, biostatisticians, and data science team.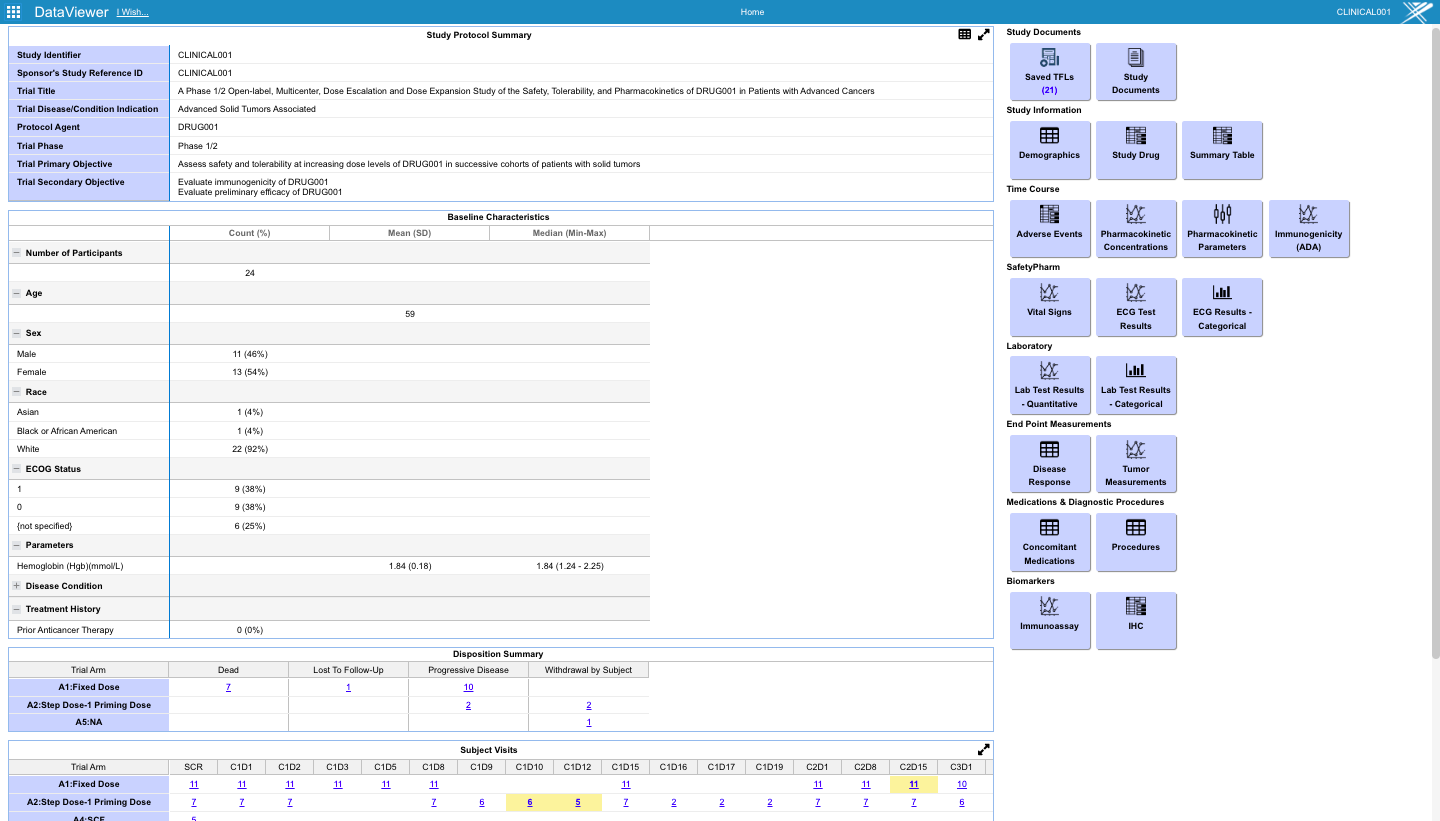 Preconfigured monitoring tables and charts accessible from the study dashboard.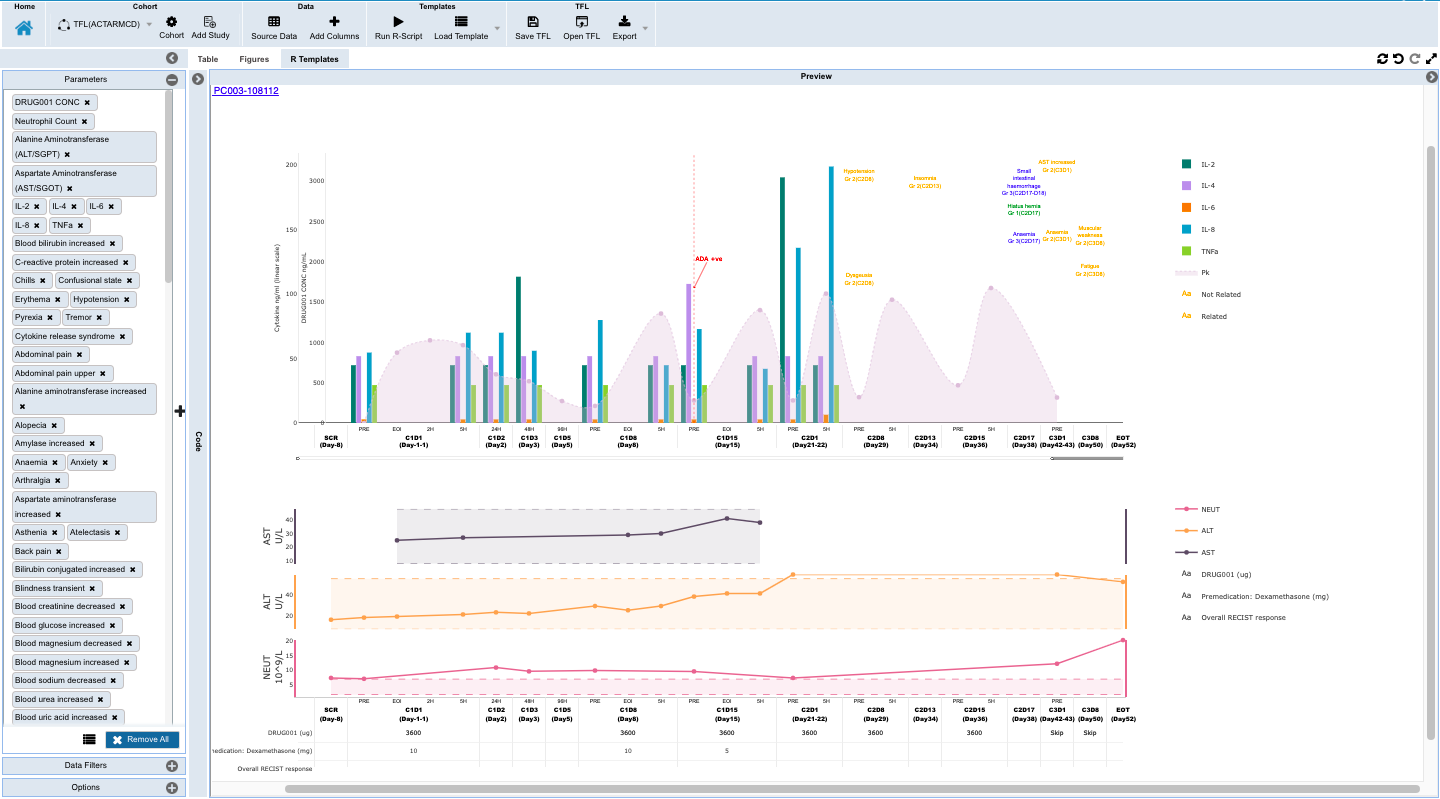 Monitoring individual patients for safety and efficacy in integrated longitudinal view for dosing, events, lab, PK and biomarker data.